How LeadDyno Works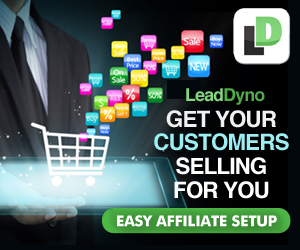 LeadDyno is the easiest way to start your own affiliate program and also the most cost effective way to bring in new customers without having to pay for expensive Adwords or Facebook ads. Here are some of the benefits of this excellent marketing tool:
Easily create and manage marketing content
Turn website visitors into affiliates
Automatically turn buyers into affiliates
Stay in communication with active affiliates
Grow your business on autopilot
LeadDyno shows you where your online buyers are coming from, and also tracks all visitors, leads and sales so you can see how effective your website is at converting visitors. Watch the video below for a quick overview on how this platform works.